Mindmapping and brainstorming
Mind mapping is an informal way of classifying and representing parts of a single concept in a visually appealing way. Mind maps are meant to be easily understood, hence presentation is important. Coloured lines and different shapes are often used to highlight distinct elements. How your mind-map looks is up to you, so be creative! Mind maps can provide an easy means of explaining your area of interest to others. They can also be used to create summaries of notes, lecture plans, conference presentations or even to formulate creative projects. Mind maps are usually simple, but can evolve into more complex representations.
Brainstorming is a framework for identifying important elements of a topic. It allows you to think broadly without getting bogged down in the details of one area. Brainstorming is all about stimulating and recording the thought process surrounding a single topic. Brainstorming can also be an effective tool for breaking the ice in group settings, because it encourages participation and facilitates the collection of multiple perspectives.
Although there is a plethora of mind-mapping and brainstorming software, we have chosen tools that are free to use, platform-independent and integrated with collaborative and sharing environments.
Coggle for mind-mapping
Coggle is a simple, versatile and free web application that can be accessed directly with a Google account. The application allows users to create "concept trees": non-linear, hierarchical representations of ideas, words or actions relating to a concept that visually resemble branches of a tree. Users can easily express their creativity by changing the colour and angle of lines, modifying text size and attaching images and web links to their mind maps.
Coggle offers a number of alternatives to share and disseminate mind maps:
Multiple users can be invited to work on a single, collaborative mind map. This feature is particularly useful for geographically dispersed teams.
Mind maps can be shared with others via a private link. It is also possible to give others read-only or write access to a mind map.
Mind maps can be shared with online social networks via Facebook and Twitter.
HTML code is automatically generated to facilitate embedding of mind maps into web pages.
Mind maps can be downloaded as png images of pdf documents. Options are available to export Coggle documents as plain-text outlines or Freemind files.
Take a look at the Coggle gallery!
Padlet for brainstorming
Padlet is a web-based interface that allows users to easily add content to their own brainstorming "wall". The Padlet wall is a space to make
notes, add URLS and import files (such as text documents, images, audio and video) that are relevant or connected to the topic that you are brainstorming about. Examples include planning a project, collecting research notes, managing deadlines and identifying useful research/learning resources.
Although Padlet walls can be kept as a personal brainstorming space, the application provides a number of ways to work collaboratively and share walls with others:
Multiple contributors can be invited to work on a Padlet wall.
Walls can be shared via a variety of social media platforms, RSS feeds, email or QR codes.
Walls can be exported in different formats, such as images, PDF files or Excel spread sheets.
HTML code is automatically generated to embed brainstorming walls into web pages.
3 vastly different layouts that convey information as a square board, a feed of information, or as an open canvas

Utilize wallpapers as organization tools, from a Venn Diagram, to KWL chart, to a calendar, to a To-Do list

Use as a publishing tool or private notes app, thanks to comprehensive privacy options

Supports minimalists and maximalists alike
From sticky notes to essays, encompasses all types of writing
Choose a custom link address that's easy to remember, then just copy and paste!
Export as PDF, CSV, Image, or Excel File
Embed padlets on your website, blog or learning management system
Available on iOS (iPhone, iPad, iPod Touch), Android, and Kindle devices
Mind map from Canva
With the Canva free online Mind Map maker, it is easy to create a beautiful Mind Map design. There is a good selection of  templates which may be quickly edited and customized as needed. Just choose the perfect template for you, edit its elements, and start mapping your way to your next AHA! moment.
Mind Maps can leap from topic to topic so keep your thoughts organized by color coding your design. Change a branch or text box color according to the topic they're assigned to so you can easily find and connect interrelated ideas. Use Canva's color palette tool to choose any color in the spectrum or type in a specific hex code.
Add visual elements like images and illustrations
Browse through Canva's amazing media library of icons, photos, and illustrations to use on your mind map.
Search from over a million stock photos and add it to your design by dragging and dropping it into the editor.
Mind Map and add their own edits, thoughts and ideas any time and from any desktop, laptop, iPhone or iPad device.
When you're all done you can simply download your design as a JPEG, PNG or PDF file, share it on your social media, or email it directly to someone.
Mindmup2
Create unlimited mind maps for free, and store them in the cloud. Your mind maps are available everywhere, instantly, from any device. Brainstorm, create presentations and document outlines with mind maps, and publish your ideas online and to social networks. MindMup is great for individual note-taking, collaborative planning, teamwork and classrooms.  Of particular value is that Mindmup allows you to:
Convert maps easily to PDF, PowerPoint, outlines…
Publish and share maps online
Easily save to Google Drive and manage using Google Apps!
Use notes and attachments to quickly create a structure for an article or a writing assignment, then create a document outline and continue editing in your favourite writing tool. Use the planning canvas to capture and organise your thoughts, and then put them into a powerful storyboard to turn a hierarchy of ideas into a sequence of slides. Add measurements to map nodes to automatically calculate cost, completion and other important factors. Manage project progress easily with icons and priorities. There is more – so go and check it out!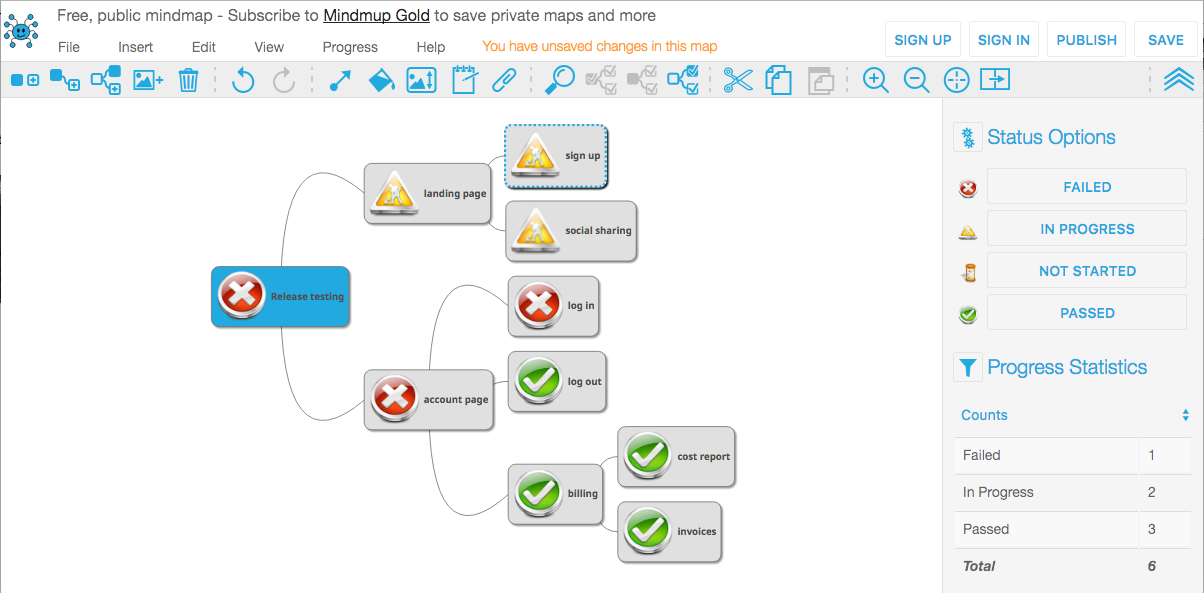 Scapple
Scapple was created for OS X users, and it is mainly for writers. Creating notes is as easy as double-clicking anywhere on the canvas and then typing; making connections between ideas is as painless as dragging and dropping one note onto another. And unlike with paper, you can move notes around and never run out of space.This is a great tool for authors who want to make sure that they never forget any idea they come up with. It is also quite unique as it connects directly to Scrivener, the go-to thesis writing software.
Visuwords
Taking a different approach to mindmapping ideas IS Visuwords Online which provides a unique interface for an online graphical dictionary.  VisuWords is a mindmapping linguistic tool that shows the relationships between the queried word and related words in an interactive map, with corresponding definitions. Here you can look up words to find their meanings and associations with other words and concepts as well as produce diagrams reminiscent of a neural net. Learn how words associate!
Considerations
Privacy and confidentiality
As with any online platform that provides integration and dissemination functionality through social media, you should exercise critical thinking before sending your mind-maps and brainstorming spaces into circulation. If you have included private information (e.g. personally identifiable information) or confidential information (e.g. medical records, blueprints, internal draft documentation) that relate to you or others, then you should consider the appropriateness and legality of disclosure to third parties.
Intellectual property
Mind mapping and brainstorming often involve bringing together the ideas of multiple contributors. It is important that content created in a group setting is clearly attributed to individual collaborators. Web-based platforms often include an audit log which records changes to the content over time and identifies contributors. However, this information may not be included when the content is exported or shared. If you are using these tools when working in a group setting you should consider documenting contributors separately to ensure this information is not lost.
Security and sustainability
Before joining any of the tools such as these, make sure that you read, understand and accept user agreements and terms of service.
You should always bear in mind that these tools represent free services provided by a third party. It is primarily your responsibility to ascertain that the content you generate is properly backed up and maintained, particularly in the event that the third party providers decide to discontinue the service.
Copyrighted material
Before publishing or sharing your mind maps and brainstorming spaces, make sure that you check the copyright conditions of any material you have attached (including images, text documents, audio and video files).
---
Try this
---
Explore further
DiRT on brainstorming tools.
DIRT Directory is a registry of digital research tools for scholarly use. DiRT makes it easy for digital humanists and others conducting digital research to find and compare resources ranging from content management systems to music OCR, statistical analysis packages to mindmapping software.
TAPoR (Text Analysis Portal for Research) is a portal that allows you to discover text manipulation, analysis, and visualization tools, read tool reviews and recommendations, and tag, comment, rate, and review collaboratively.
Story Maps is an online application that lets you combine authoritative maps with narrative text, images, and multimedia content to tell your story.  Copernicus and his Universe is an example of a digital project built with Story Maps.
Buzan, T. (2010). The mind map book : unlock your creativity, boost your memory, change your life. Harlow: Pearson/BBC Active.
Curran, B. (2014). Engaged, Connected, Empowered: Teaching and Learning in the 21st Century. Hoboken : Taylor and Francis.
Davies, M. (2011). Concept mapping, mind mapping and argument mapping: what are the differences and do they matter?. Higher education, 62(3), 279-301.
Kernan, W. D., Basch, C. H., & Cadorett, V. (2017). Using mind mapping to identify research topics: A lesson for teaching research methods. Pedagogy in Health Promotion, 2373379917719729.
Lupton, E. (2011). Graphic design thinking : beyond brainstorming. New York : Princeton Architectural Press ; Baltimore : Maryland Institute College of Art.
Meier, P. S. (2007). Mind-mapping: a tool for eliciting and representing knowledge held by diverse informants. Social Research Update, 52, 1-4.